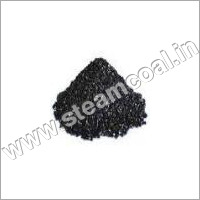 Industrial Black Coal
Product Description
As a well-known trader, importer and supplier of the market, we are engaged in offering Industrial Black Coal. This coal is extracted from the ground by coal mining under the guidance our vendor's skilled team of professionals. The offered black coal is highly utilized in various industrial sectors as it produces electricity and heat on burning. In order to ensure effectiveness for longer time, we pack this Industrial Black Coal using supreme grade packaging material. It is regarded as the largest source of energy for electricity generation and also used in paper industries, cement industries, pharmaceutical company, paint industries, pulverizing units, steel rolling mills, brick chambers, and many others.
Key Features
Fixed carbon up to 98.5%
High purity level
Low sulfur content
Minimum volatile matter
Uses of Black Coal:-
Power stations are the major source for using black coal to produce electricity. In these stations, the coal is pulverized and burnt to provide heat to the boilers which generate steam. This coal is known as 'steaming coal'. In the year 2008, Australia produce 77% of electricity by coal fired power stations, which used brown and black coal.
There are few varieties of black coal which are ideal for making coke. Known as coking coal, these produce coke and gas upon heating while the air is absent.
Coke is composed of ash and carbon in higher percentage. This is porous solid in nature and is used in blast furnaces which produce iron. The top grades of coke are hard and their crushing strength is high. When coke and gas are produced, by-products are also produced which can be used for the preparation of various organic chemicals such as tars and feedstock. Some part of coal is used mainly for obtaining these products.
Use of PCI coal is in blast furnaces to increase the life span of coke ovens and decrease the operating costs. Other uses of black coal includes as a heat source in the cement production and food processing.